Almost ready
After two weeks of chopping and putting together the last kits went into the post this morning (thanks to the very patient porters on campus), and people are already getting theirs arriving from the earlier batches - so we are very nearly ready to start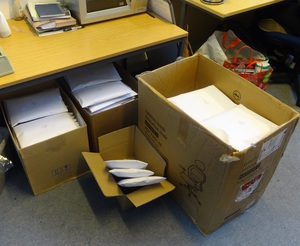 A quick note: if you are missing anything from the kits, please let me know asap and I will get replacements sent to you. Everything was in when we put them together, but the post has been harsher on some kits than others. We've got time to send out extras, so don't worry about running late!
(Kits should contain: 1 folded A3 instruction sheet; 1 A4 recording sheet; 1 A4 ID guide; 1m square of netting; 8 plastic foldable pots; and 12 beans.)
If you find you need a large print edition of the documents, there are pdfs available from the Downloads section of the website. There are also pdfs of the standard print sheets if you want duplicates, or if they go missing during the course of the experiment.
A couple of questions that have come up:
1) Timing. Sprouting out the beans / starting the project up is to start in the first week of April. I'll be getting going on mine on April 1st, but anytime in that week is fine really (as long as I know when the beans got planted, on the recording form).
2) Supporting pots. There have been a couple of questions about the provided pots. I'm trying to keep the soil volume / quality that the plants have access to fairly standard across the experiment, and my tester beans did fine in 1.5L pots (as they are quite small plants). If you want to put the filled pots inside other, sturdier ones for support / not being blown over, or watering purposes, that's fine – as long as they are first in their foldable one.
I will put a 'questions' section on the website, and update that with anything else that folks bring up along the course of the study, and will announce these via twitter (@ljbees). I'll be running my own version of the experiment, with photos of each step, so you can see how I'm doing as we go on as well. Project emails will be once a week.
If you haven't received an email from me today about all this, I might be having problems with your email address - could you let me (or Leila) know? Contact us