And – we're done!
Thank you all so much to everyone who took part in Bees 'n Beans in 2015, be(e) it from your garden, your questions, tweets or general engagement - it's been great to run this project again. Despite the cold spring, the blackfly invasion, and all manner of animal saboteurs (with fox cubs being the cutest culprits, and a herd of beef cattle the most surprising), we've got more results back in now than we did last year. PLUS the data from the radishes; which were a bit more fiddly than I'd expected, but I hope you had fun trying them out.
Fantastic work, everyone!
---
There are a couple more things that would be great if you could do this year, to support the project (and my PhD!), if you have a bit of time.
Participation review
I have put together a very short, anonymous questionnaire to ask about 'participation' in Bees 'n Beans - no matter what stage you were able to get to. This will let me get a good idea of how well received the project was overall, and how viable it will be to push for it to continue after my PhD finishes. It also has a comment box for feedback if you want to keep it anonymous, or you can always email me and let me know what you thought of the project this year.
Create your own user feedback survey
The Need for Bees
Update: This project is now closed for 2015. Thank you to everyone who took part!
---
That's it!
Again, huge thanks to everyone for taking part – I quite literally couldn't do this project without your efforts, and I do hope you've found it a fun and interesting thing to take part in!
Bees 'n Beans will be running again next year, so if you would like to take part again, watch this space. And if you're looking for more citizen science experiments for home or schools, do check out our new charity / club from Sussex University - The Buzz Club (http://thebuzzclub.uk/). Projects hopefully from myself and other members of the Goulson Lab group, looking at all sorts of pollinators, and finding out what we can best to do help insects in our own gardens.
I'll still be tweeting and blogging here and on twitter, so do send me your bee questions or comments - I'll do my best to answer!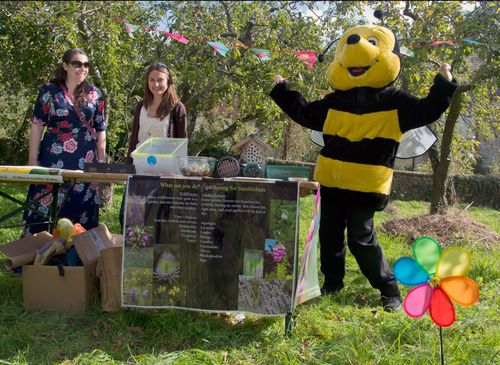 Linda promoting the Buzz Club (and being completely unable to see out of the Goulson Lab bee costume!).