There still seems to be some confusion about the hand-pollinating method (although honestly as long as you're handling the plants a bit, you're probably doing something!). I did promise you all a new video for this year, but due to issues with the editing software, I haven't been able to make an updated one. But you can watch part of the one from last year to see how to open and close the flowers.
Remember – this year we are NOT trying to cross-pollinate the flowers. Given the flowers last about a week, and you will hand-pollinate twice per week, you will probably handle each individual flower ten times. So if you were doing you hand-pollinating on monday and thursday, for example, you would do:
Monday - Open and close the flowers 5 times.
Thursday - Open and close the flowers another 5 times.
When each flower has gone grey / floppy, you don't need to hand-pollinate them anymore.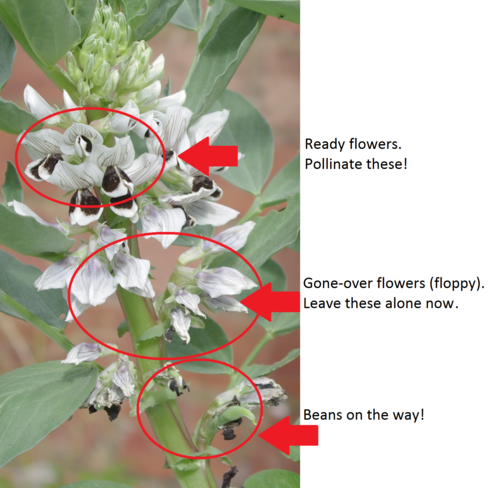 Example of different stages of bean flowers.
Now, while I only have last year's video, you can still see the method of opening and closing the flowers, which is the same. The video below should start playing at 1:48, and you only need to watch what I do until 2:10 (and I do it again 2:38 – 2:48). You don't need to do the faffing around that happens afterwards with bits of other flowers, as we showed last year that just opening / closing is equally effective!